Call for pickup: 252-991-6035
Wilson's Favorite Place to Eat
SANDWICHES, PIZZA AND APPETIZERS
When you're craving a made-to-order sandwich, sizzling flatbread pizzas, or mouth-watering appetizers, Brewmasters is the place to go. Like our beers, our craft sandwiches and pizzas use the finest ingredients. We make 'em how you want 'em every time. Morkos recommends the Meatlover's Pizza, the Wilsonian is our best-seller (Jimmy's been known to make his into a wrap), and Scott likes to chow down on the Gobbler.

all your favorite foods delivered to your door
Brewmasters has teamed up with Uber Eats and GRUBHUB for extra-speedy sandwich and pizza delivery! You can now have your Brewmasters favorites delivered right to your door. Follow the Uber Eats and GRUBHUB link to see our full menu and start your order!
Chicken Tenders with Fries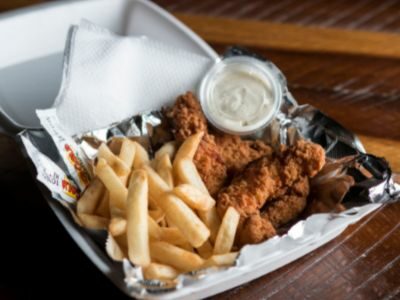 Big or small, Brewmasters has your catering needs covered. Our expert staff is sure to make your next event a huge success!