Maybe North Carolina is the place that you call home, or perhaps it's your dream destination for a wedding. Either way, this beautiful state and its plethora of venues can accommodate a wide range of wedding styles.
Whether your desire is a rustic wedding in the mountains, a Gatsby-like ceremony on a beautiful southern plantation, or a simple exchange of vows along the breezy coastline, there is a venue to meet most planning and budget needs.
While venues are a significant piece of the planning puzzle, there is one an equally paramount decision that must be made and your search for the perfect wedding dress in Raleigh, NC will not disappoint.
As the state's premier wedding bar service provider, we belly up to the bar with some of Carolina's most supreme wedding planners, which makes us privy to some pretty significant insider information. We want to share some of that information with you and tip you off on the best places to shop for wedding dresses in Raleigh, NC.
But before we start talking about where to shop, let's talk about some dress shopping secrets you need to consider.
Some Things to Know Before Shopping for Wedding Dresses in Raleigh, North Carolina:
Limit your fan club – Invite one or two of your closest friends or family to accompany you, so you aren't overwhelmed with too many opinions because everybody has one. (insert eye roll emoji)
Hidden costs add up – When calculating your wedding gown budget, don't forget to include alterations, headpiece, accessories, shoes, and undergarments to your bottom (no pun intended, ok, maybe so) line.
Keep your chin up, princess – The odds of finding the best wedding dress in Raleigh, NC are pretty good, so don't get discouraged if you end up empty-handed on your first round. If at first, you don't succeed, shop and shop again!
Book an appointment – It is wise to plan ahead and book an appointment to ensure that you get one solid hour of undivided attention, because, for real, this day is all about YOU!
Weekday vs. Weekend – Saturdays are the busiest days at bridal salons, so book an appointment during the week to avoid the crowds and let's be candid here, Saturdays are for hanging out with us.
Now, onto the more important things of bride life and the reason you joined this party in the first place. Let's talk about some of the best places to shop when looking for wedding dresses in Raleigh, NC. Here are our thoughts of the best places to shop for Ralegh's most elegant wedding dress options.
a&bé Bridal Shop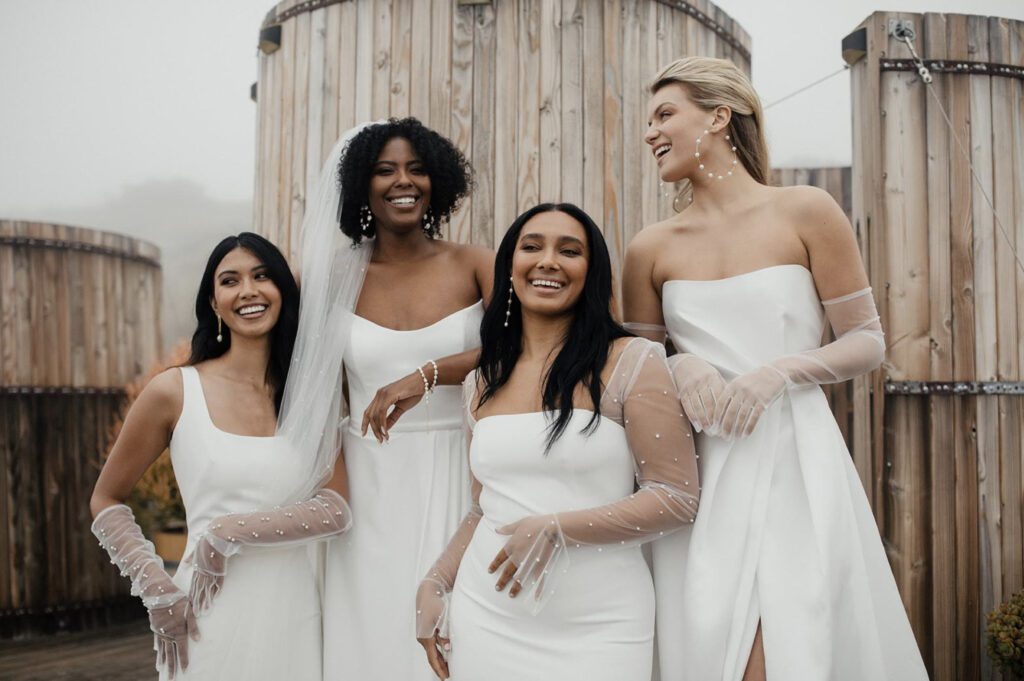 a&bé bridal shop Raleigh is home to a good time and a good dress! Located in downtown Cary, their experience is undeniably fun, no fuss, and relaxed. At a&bé, brides can find their dream dress within a curated collection of modern and romantic wedding gowns from sought after designers in a design minded space full of natural light. Many of their designers are family owned and operated, women led, or indie. When brides purchase a dress at a&bé bridal shop, a percentage of their sale goes directly towards organizations that support women.
Savvi Formalwear and Bridal
Savvi Formalwear and Bridal can be a one-stop shop for the entire wedding party, including brides, bridesmaids, and flower girls, grooms, groomsmen and ring bearers and heaven forbid, they leave out mom and dad.
For over 25 years, locally owned Savvi Formalwear and Bridal has offered their impeccable services and products to brides in search of the perfect wedding dress in Raleigh, NC, and surrounding areas.
In addition to their incredible designer wedding wear from some of the greatest leading brands in the industry like Casablanca, Morilee, and Michael Kors, they put themselves over the top by offering services that will be the icing on the cake to a pleasant shopping experience.
Some of these services include sample sales, customization, rentals, preservation, and cleaning. The experience so many brides have shared at Savvi Formalwear and Bridal has been described as accommodating, stress-free, convenient and amazing.
Maggi Bridal
For well over a decade, Maggi Bridal has maintained its central focus of helping the bride-to-be feel most beautiful, both in preparation for the day she has dreamed of since she was a little girl and as she walks down the aisle into her new life of wedded bliss.
It is Maggi Bridal's intent that every bride receives the personalized attention she not only desires, but also deserves as she searches for the dress of her dreams. Their broad selection of inventory offers a variety of styles, sizes, shapes, and colors in their array of leading brands, such as Modeca Curves, Justin Alexander, Lillian West and more.
Having received the honor of The Knot's "Best of Weddings" award for five consecutive years, it comes as no surprise that customer service is the name of their game. As the princess bride narrows down her search for "the one," Maggi Bridal should be a shopping destination at the very top of the list.
New York Bridal and Groom of Raleigh
Who brings a touch of big-city romance to the southern living city of Oak trees? New York Bridal and Groom of Raleigh! Originally founded in 1994 as a small bridal boutique in upstate New York, New York Bridal and Groom expanded in 2002 with their second location in Charlotte, NC. The most recent expansion of this leading chain in the wedding industry is right here in Raleigh.
Currently housed in a 20,000 square foot full service, luxurious bridal salon, they are prepared, staffed and equipped to assist every bride in finding the dress of her dreams.
New York Bridal and Groom's commitment to its customers is as follows: "You should not have to spend thousands and thousands of dollars to have an amazing and unique wedding gown. Our shops have everything necessary to create an unforgettable wedding day look at the lowest possible prices."

Gilded Bridal
Looking for something other than the traditional wedding gown? Gilded Bridal, known for their fresh alternative to mainstream bridal options, should be a priority destination on your dare-to-be-different quest for wedding dresses in Raleigh, NC.
In their effort to promote and encourage a very relaxed and welcoming "you do you" shopping experience, Gilded Bridal offers some of the finest and unique wedding dresses from independent designers.
Whether the sought after look is for the flare of a Bohemian beauty, a dreamy romantic pollyanna, an eccentric free spirit or exquisite glamorous goddess, they are there to serve you.
Alexia's Bridal Boutique
Although "couture" (fashionable, custom made) may be a term uncommon to most, one doesn't have to be groomed in the wedding industry to recognize the caliber of wedding dress apparel Alexia's Bridal Boutique offers their clientele.
Established in 2003 by a husband and wife team, Alexia's Bridal Boutique is staffed with a team of highly trained, professional consultants who go above and beyond to ensure every bride has an exceptional experience.
To provide such a beautiful selection of curated wedding gowns, Alexia meets personally with designers in both New York and abroad. As far as Alexia's Bridal Boutique is concerned, you are part of their family and it is their mission to make every bride feel as such.
Lana Addison Bridal
Like what you see at Alexia's Bridal Boutique, but the price tags don't quite agree with your budget? Take a mini road trip to Alexia's sister boutique, Lana Addison Bridal, in Cary, NC, less than 20 miles outside of Raleigh. Although Lana Addison carries a collection of high-end design, the starting price point for their inventory begins at a more affordable rate.
Cordella Bridal
Owned and operated by designer Marie Cordella, Cordella Bridal studio provides a unique experience that is focused on customization and the features of personal charm, fit and divine artisan craftsmanship.
Not only does Cordella Bridal showcase some of the most eloquently custom designed wedding dresses in Raleigh, NC, they also offer a unique service that can modify and transform existing bridal gowns and accessories into a one-of-a-kind treasure.
The experience at Cordella Bridal is guaranteed to be one laced with sweet southern charm and sophisticated service that is carefully nurtured in a classy and intimate environment.
Coastal Knot Bridal
Elegant, chic, dashing, sophisticated, flattering is perhaps a slightly modest description of the wedding apparel one will discover at Coastal Knot Bridal. Their primary goal is to provide the bride-to-be with the most relaxed and memorable experience as she explores their curated collection from some of the world's top designers.
Unique to the industry, Coastal Knot Bridal offers a day-of-dressing service to the bride and her bridal party. This on-site service includes dressing the bride in her gown, bustling it before the reception, as well as steaming for the entire bridal party.
David's Bridal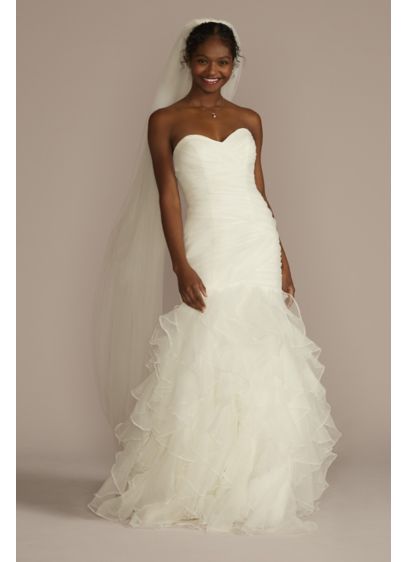 And, of course, we can't neglect to include David's Bridal to the list of "must shop stops" when searching for wedding dresses in Raleigh, NC. As one of the largest American chains in the wedding industry, David's Bridal gowns are conveniently available for purchase right off the rack and are appropriately priced to meet the budget of most brides.
Conclusion
Well, this is your Brewmaster's review of some of the best places to shop for wedding dresses in Raleigh, NC.
Hopefully, this review helps you prepare for your special day. Next time you're in Wilson, stop by Brewmasters, grab a beer, pull up a stool and tell me how your wedding went!