Summer is almost here. Do you have any fun, adventurous plans?
Well, no need to look any further! I've listed 15 of the most fun things to do inGoldsboro. So get out your pen and paper and take notes as I overview some awesome activities here in town!
With so much to experience and explore, in no time you will be adding more "To-Dos" to your Goldsboro summer bucket list.
Without further adieu here are 15 fun things to do in Goldsboro this summer. Hopefully, this helps you get started on your Goldsboro adventure.
1. Kayak at the Cliffs of the Neuse State Park
Outdoor adventures on the water at the Cliffs of the Neuse State Park are perfect for summer! Cliffs of the Neuse State Park offers a variety of summer activities.
Relax while paddling down the majestic Neuse River while surrounded by massive cliffs that have been formed over millennia by the mighty force of Mother Nature. The Visitor's Center opens at 8 a.m. And closed at 5 p.m. daily.
There's no need to be an expert kayaker, there are classes available to get you started. Get ready to paddle your little heart out. This is the perfect chance to start a new hobby!
2. Take a Ghost Tour and Get Spooked
Learn more about that battle's dark side as well as Downtown and Waynesborough Historical Village through a guided tour. Candlelight Tours run by Thomas Bailey have operate a thrilling Ghosts of Goldsborough's 2-hour tour, which is well worth the $10 it takes to book.
You will learn about the history of Goldsboro while you will also discover some of the darker sides of this otherwise quiet town.
I've been on a couple of ghost tours and strongly recommend this one, if you're in them too.
Visit Goldsboro (or call 919.734.7922) to book your tour or get more information.
3. See the Arts
Check out the downtown art murals while cruising around downtown. Walk around Center Street and scope out all the various art installations.
My favorite is the cool mural commemorating the African American Music Trail. Other than murals, downtown has even more fun artsy stuff going on.
Most of the art is overseen by The Arts Council of Wayne County and you should keep tabs on them concerning news about new exhibitions, performances and more.
4. Escape Downtown
Gather your family and friends and immerse yourself in a creative, exciting experience. You and your team will have to figure out how to escape your designated room in under one hour.
You'll do this by solving a number of clues, riddles, puzzles and more. This is the perfect way to make good use of all those nights binge-watching True Detective!
Not only do you need to escape, but you're competing against the teams that have gone before you as you race against the clock, so don't waste a single second.
Find out if you've got what it takes to escape! Escape Rooms of Goldsboro
5. Get Your Groove On at Center Street Jam
We're jamming in the street this summer here in Downtown Goldsboro! Center Street Jam is a free series of summer concerts in the heart of downtown.
his summer, every other Thursday will feature bands you love like Spare Change, Jim Quick & Coastline, The Embers, and many more.
Bring your lawn chairs, dance shoes, and the whole family and join us for great music, cold drinks, delicious food. There will also be activities for children, and more!
The Center Street Jam is such a great free thing to do in Goldsboro during the summer and I strongly suggest you make the trip!
6. Get Busco Beach Dirty
This is not your typical beach. Well, it's really not a beach at all! Busco Beach is a recreational riding facility consisting of more than 2,000 acres of ATV riding trails, full hook up campsites, and large swimming and jet skiing ponds.
Enjoy this summer with a little off-road fun!
7. Have a Cold One at Brewmasters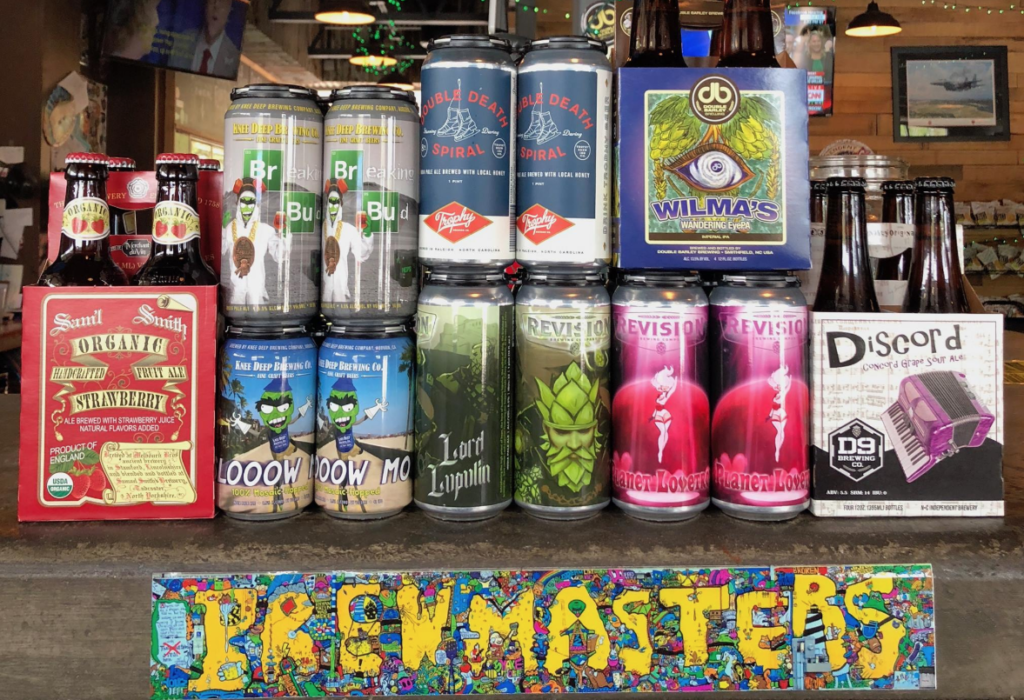 There's definitely another side to Golsdboro's culture beside outdoor adventures and tours. Brewmasters is a popular place where locals can catch up with friends over drinks and amazing sandwiches.
The restaurant's bottle shop specializes in craft beer, serving more than 1,000 types of beer (and also more than 100 types of wine for wine lovers). The friendly staff and friendly atmosphere make Brewmasters a great place to have a mouth-watering meal or try a unique beer while in Goldsboro.
As my favorite restaurant in town, I can assure you visiting Brewmasters is always a great thing to do in Goldsboro!
8. Hit a hole-in-one at one of our many golf courses!
Goldsboro is basically golfer's Valhalla.
You'll have everything you need to perfect your swing between Goldsboro Municipal Golf Course, Lane Tree Golf Club, Southern Wayne Country Club, and Walnut Creek Country Club.
The amazing golf course selection can be the perfect thing to do in Goldsboro for the avid golfer!
9. Go to the Peep Show
Nope, It's not as scandalous as it sounds, it is a super sweet art display featuring some of your favorite Easter marshmallows! The mallow exhibit will be on display at the Arts Council of Wayne County from (dates TBD).
Artists across North Carolina are invited to create marshmallow masterpiece made from Peeps, that must represent their medium, favorite hobby, or favorite place to visit in our amazing state.
These creations will enter the PEEP-les Choice Competition to be held on (Date TBD) at the Arts Council. Come check out these masterpieces, but please don't eat them!
10. Do the Funky Chicken at Beak Week – Eastern NC Poultry Festival
Don't get your feathers in a bunch as summer winds down. Make sure you're in Goldsboro September 7th for this year's Beak Week Festival.
We'll celebrate the long-standing poultry heritage of Wayne County with helicopter rides, a car show, live music, children's area, food trucks, zoo viewing, vendors of arts and crafts, a cook-off barbecue, and more. See more at here!
11. Stay Cool Downtown
The newly revitalized Historic District Downtown is a great place to start when in Goldsboro. Play some arcade games while slamming delicious North Carolina craft brewskies hailing from Asheville to the Coast.
Brew Works is the perfect spot when you want to settle down for a drink or two while dominating Frogger. Downtown also has some fun locally-owned shops, including the Carolina Pine Country Store and the Bicycle World-The Outdoor Shoppe.
Downtown offers so many fun things to do in Goldsboro, so make sure you take a visit while in town!
12. Get Your Brine on at Mt. Olive Pickle Factory
Take a short drive from Goldsboro to the intersection of Cucumber and Vine in Mount Olive, NC. You're not going to be in a pickle at the Mt. Olive Pickle factory!
A Mt. Olive mainstay, last year they celebrated their 90th year of operation. Visit the gift shop and find out about all the products produced in the United States by the pickle's most Dill-icious brand.
Ask for the 15-minute tour DVD, which shows how the pickles are made, when you're in the gift shop. For taking the tour, you will even get a visitor pack and a free jar of pickles!
The facility spans over 150 acres, with production and warehouse space covering just over 1 million square feet, and the facility has a tank yard with 1,100 fiberglass tanks with a storage capacity of over 40 million pounds of cucumbers.
After you've filled your car with all the Mt. Olive pickles you can eat, check out their website for additional ideas on how to use them.
Factory tours are not available to the public on a regular basis. However, factory tour arrangements can be made through the Visit Goldsboro office.
13. Dive into Goldsboro's Civil War History
Do you know about the Battle of Goldsborough Bridge? In the Civil War, Goldsboro was a major railway junction.
In December 1862 when a bloody skirmish was fought over this important junction by Union and Confederate troops and is known today as The Battle Of Goldsborough Bridge.
Take a trip through time and learn all about this pivotal battle. As you walk the trail, markers will tell you of the events that took place. You'll learn how union troops burned a crucial bridge, and destroyed miles of railroad tracks.
Interestingly, the battle was covered and published by a Union journalist. The piece is known as Kinston, Whitehall and Goldsboro (North Carolina) Expedition, December 1862.
14. Tour Seymour Johnson Air Force Base
What's more exciting than hearing jet scream by overhead? What about seeing jets at one of the world's most elite Air Force Bases! Seymour Johnson Air Force Base (SJAFB) gives tours the last Thursday of every month.
All bookings must be pre-registered through the Goldsboro Wayne County Travel & Tourism office at least three weeks in advance.
15. Explore Goldsboro Restaurants
Goldsboro has some of the stars of Eastern North Carolina's Barbecue scene like iconic spot, Grady's. Grady's is listed on the NCBS Historic Barbecue Trail, which consist of only 22 establishments across the state.
Fairly new in town, Barrique located in the Historic District provides upscale, locally sourced food, 21-day (minimum) barrel-aged cocktails, and a highly regarded selection of fine wines.
Whether you're ordering an Angus steak or the Seafood Risotto with Sneads Ferry ingredients, everything on Barrique's menu is perfect for a date night, business meeting, or any night you'd like to eat great food in a cool setting.
For a few more restaurants, check out my article, Best Restaurants in Goldsboro, NC!
Enjoy Goldsboro!
With so many fun things to do in Goldsboro, it's hard not to enjoy this town. Make the most of your summer and experience all the wonderful activities Goldsboro has to offer.
If you have any comments or suggestions about anything else going on in town, please share them in the comments section. I would love to hear your thoughts on other activities that help make Goldsboro so special!