Shockingly, this is a question I get constantly, "What county is Wilson, NC in?"
Well, ladies and gentlemen, it may come as a huge surprise to you that the city of Wilson, NC is actually in Wilson County.
Due to the constant curiosity about Wilson county, I've decided to put together a brief history about Wilson County as well as a map showing the bordering counties and the towns within them.
Wilson County and Surrounding County Map
What county is Wilson, NC in!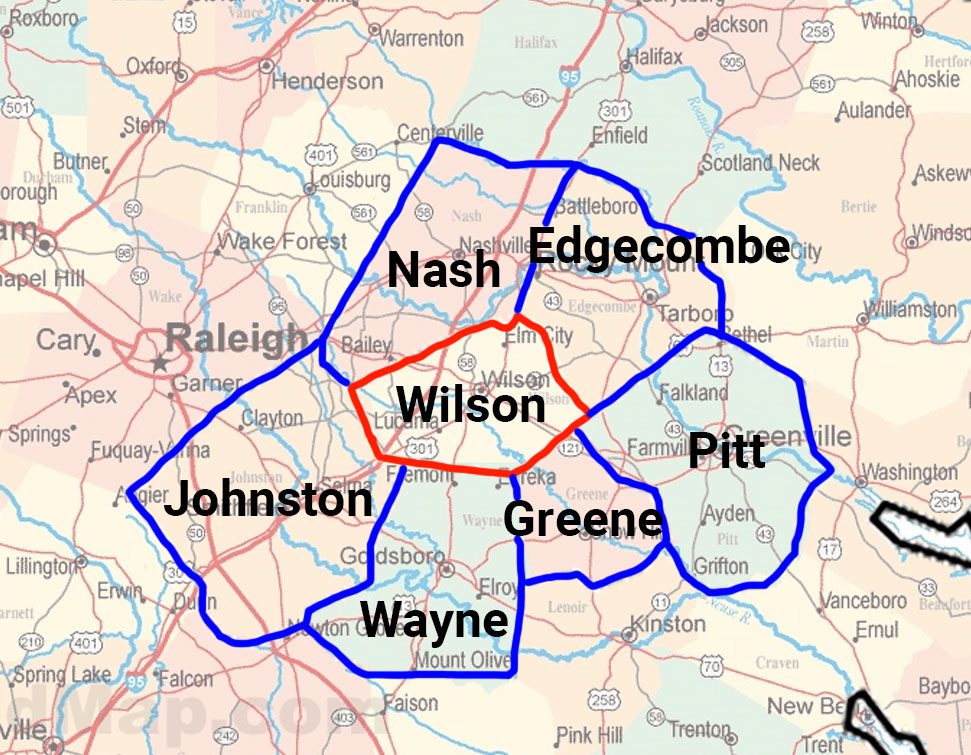 Brief History of Wilson County
Present day Wilson County was occupied by indigenous peoples long before the arrival of European settlers. Evidence showing habitation in the area dates back nearly 10,000 years. The first documented settlements in the area belong to the Tuscarora Indians, whose presence in the area dates back several hundred years.  Other than the Tuscarora, the area remained mostly unsettled into the 1800s, although one European landmark, the house of James Scarborough, dates back to the early 1820s.
Contentnea Creek cuts across the county; however, this waterway is not considered a major waterway and travel by large boats are not possible. The lack of a significant navigation channel through the area is a contributing factor that slowed the development of the region.  
With the extension of the Wilmington and Raleigh Railroad in 1839, new settlers were attracted to the area, and in the 1840s, Edgecombe County state senator Wyatt Moye proposed incorporating a new town near the Toisnot railroad depot and the Hickory Grove community.  On January 29, 1849, the city was incorporated as Wilson, named after Louis Dicken Wilson, a former lawmaker, and soldier who died during the Mexican War
The first mayor of Wilson, Joshua Barnes, reportedly supported the establishment of a new county, as the residents of the area complained that a court or county seat was too far removed. Wilson County was created in February 1855 from small sessions from the counties of Edgecombe, Nash, Wayne, and Johnston.